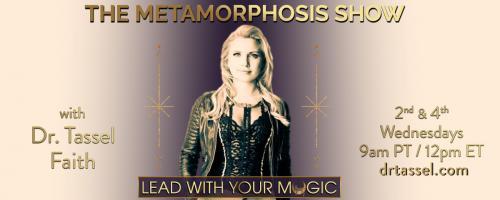 The Metamorphosis Show with Dr. Tassel Faith: Lead With Your Magic: Special Guest: Dr. Joe Vitale
09/28/2022 09:00 am PST
In this episode, Dr. Tassel speaks with the world-renowned Dr. Joe Vitale about metamorphosis in relation to attracting what you desire into your life, including channeling the pure creative energy of life without resistance, and clearing the subconscious mind from limiting beliefs.
Dr. Tassel Faith Shanebrook Ph.D.
The Metamorphosis Show with Dr. Tassel Faith: Lead With Your Magic 2nd & 4th Wednesdays 9am PT / 12pm ET Welcome to Metamorphosis, with Dr. Tassel Faith. When ...
Find out more »
Dr. Joe Vitale
Dr. Joe Vitale is a globally famous author; marketing guru; movie, tv, and radio personality; musician; and one of the top 50 inspirational speakers in the world.&nbs...
Find out more »