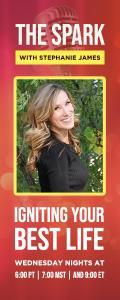 The Spark with Stephanie James: Igniting Your Best Life
Wednesdays 6pm PT / 9pm ET
As a psychotherapist, transformational life coach, presenter, radio show and podcast host, author, and filmmaker, Stephanie James has experienced what it means to live fully lit up and fully alive. After gathered wisdom from some of the most amazing minds and serving hearts on the planet and synthesizing their wisdom with her own knowledge and experience, Stephanie is prepared to help amazing individuals, just like you, expand their vision of themselves and ignite their purpose. Her personal purpose is to bring as much love and healing to the world as possible. She believes that by living as the greatest versions of ourselves, we illuminate the way for others to do the same.

Through her show, "The Spark: Igniting Your Best Life", she wants to help you create a life that takes you, your goals, and your passions to the next level. She will help you gift yourself with tapping into your full potential to begin to transform all the other areas in your life. Stephanie believes that your life was meant to be a beautiful expression of the things that light you up and that as you live your dreams, you give others permission to do the same.

Join Stephanie and an array of her incredible guests on this journey to access the amazing life that is available to you now. The unique light that is you was meant to shine bright in this world. With light and love, shine on!
Stephanie James
The Spark with Stephanie James: Igniting Your Best Life Every Wednesday 6pm PT / 7pm MT / 9pm ET As a psychotherapist, transformational life coach, presenter...
Find out more »