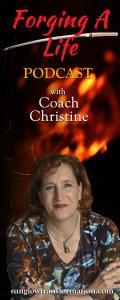 Jump into the fire with those forging success on their own terms with courage, tenacity, and resilience. These are women and men you could easily meet on the street in your community. Gain wisdom, insight, knowledge, and inspiration each episode as these business owners get transparent with Coach Christine sharing their passions, challenges, and origin stories. Christine Clark is also the CEO/Owner of a transformational coaching orgainzation, https://sunglowtransformation.com/

If you own a business, have a side hustle, desire to make the leap into self-employment or just love human interest stories, Forging A Life podcast is for you. Christine Clark is an international certified transformational life coach. She is The Coach for Your Entrepreneurial Life and these are her people.
Christine Clark
Forging A Life with Coach ChristineBeyond the Curve, Calling In Your Unique DestinyWhat is the Destiny you desire? The one you can feel, imagine, and dream IS waiting for yo...
Find out more »