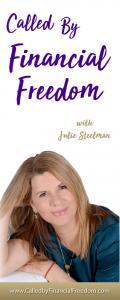 Called by Financial Freedom with Julie Steelman
Feminine entrepreneurs are leading the way in changing the world, pioneering transformative models and ready to be fully empowered to change their financial destiny. Tune in to receive meaningful wisdom about how to create consistent cash flow, design wealth building business models, make simple power moves that increase profits and discover selling secrets that convert. Dive into creative ways to access your own feminine financial intelligence and produce the real world results that give you the freedom that got you started in the first place. Your hostess, Julie Steelman, is all about ensuring feminine entrepreneurs who are called by freedom become the financial influencers of the world.
Julie Steelman
Let's start shifting from 'Yearning to Powerfully Earning' and beyond! As we reclaim our financial powerful we start making more, keeping more and giving...
Find out more »