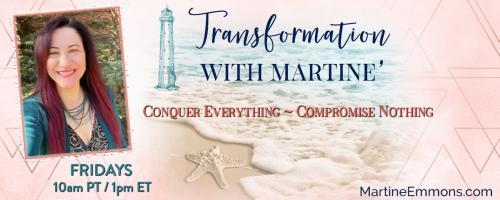 Transformation with Martine': Conquer Everything, Compromise Nothing: New Year, Elevate You
01/13/2023 10:00 am PST
In this episode, Guest Hosts Alysia Lyons and Stephanie Chapman will discuss self esteem in moms and how damaging new year, new you can be.
Connect with Alysia: alysialyons.com
Connect with Stephanie:
http://www.momstrongmindset.com/
Martine Emmons
Transformation with Martine': Conquer Everything, Compromise Nothing Fridays ~ 10am PT / 1pm ET Martiné Emmons' life has taken sharp twists and turns around n...
Find out more »
Alysia Lyons
Alysia is a mom first, an entrepreneur, a life coach, and an author second. She is passionate about helping women live their lives with more joy, from the inside out. She ha...
Find out more »