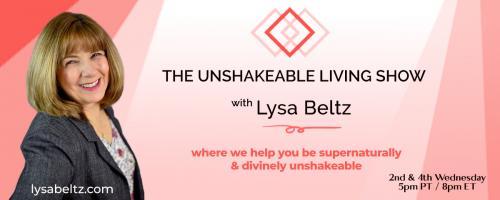 The Unshakeable Living Show with Lysa Beltz: Where We Help You Be Supernaturally and Divinely Unshakeable - with Lysa Beltz: Unshakeable Finances with Donna Connor
11/09/2022 05:00 pm PST
Donna has an empowering story of how she went from being bankrupt twice before the age of 40 to CEO of a multi-7-figure business and helping people heal their relationship with money. Because of her experiences, she is passionate about helping young adults create healthy relationships with money and to help them begin adulthood with more skills and tools than she had at their age.
Lysa Beltz
The Unshakeable Living Show: Where We Help You Be Supernaturally and Divinely Unshakeable Lysa Beltz will inform, encourage, empower, and help you realize that you are not...
Find out more »
Donna Connor
Donna Connor is a proud mom and wife, serial entrepreneur, CEO of a multi-7- figure consulting firm, NuQuo Group, and the founder of Life on Purpose Academy, where she helps...
Find out more »