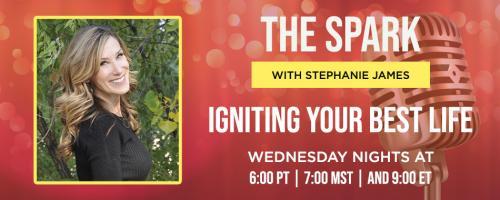 The Spark with Stephanie James: Igniting Your Best Life: Music, Soul, and the Power of Storytelling with Sheree Brown
11/03/2021 06:00 pm PST
Music has the ability transport us, transform us, to help us join together in a collective experience of spirit. Emmy Award Nominated inger, songwriter, Sheree Brown blesses us with her beautiful soul, music and message this episode.
You will be uplifted and inspired through this illuminated, fun, and deeply moving interview as we discuss life, deep belief in your dreams, and Sherees new album, Messages From The Spirit: The Collective.
Get ready to feel the sparks ignite in you!
Episode giveaways:
Stephanie James
The Spark with Stephanie James: Igniting Your Best Life Every Wednesday 6pm PT / 7pm MT / 9pm ET As a psychotherapist, transformational life coach, presenter...
Find out more »