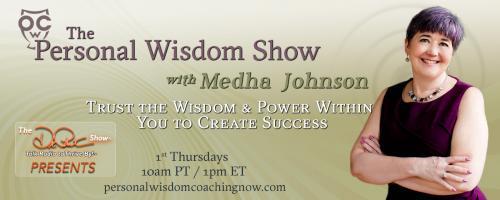 The Personal Wisdom Show with Medha Johnson: Trust the Wisdom & Power Within You to Create Success: Deep listening and body wisdom
03/03/2022 10:00 am PDT
We talk a lot about active listening, but when did you last talk about deep listening to your own wisdom?
Watch live on Facebook. www.facebook.com/transformationtalkradio/
Medha Johnson
The Personal Wisdom Show with Medha Johnson: Trust the Wisdom and Power Within You to Create Success Welcome to the Personal Wisdom Show with me, Medha Johnson and Dr. Pat...
Find out more »
Dr. Pat Baccili
Dr. Pat Baccili helps individuals and organizations break through their limiting Crust so they can reach their unlimited potential. Her specialty is assisting people face t...
Find out more »