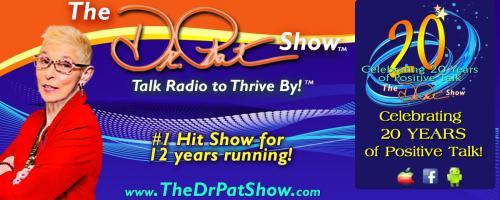 The Dr. Pat Show: Talk Radio to Thrive By!: The Alchemy of Stones with Robert Simmons
11/30/2020 11:00 am PDT
Lavishly illustrated, The Alchemy of Stones is an invitation to a journey of enlightenment, transformation, and spiritual metamorphosis aligned with the path of our living, conscious Earth.
Simmons provides guidance on discovering and harnessing the three human powers of intention, attention, and imagination, each a crucial component for meeting and working in harmony with the energies of the Stone Beings. He also introduces us to the Divine Feminine intelligence known as Sophia, or Wisdom. The Stone Beings are her emissaries, and through relating and co-creating with them, the healing and redemption of ourselves and the Earth becomes a reality.
Episode giveaways:
3 copies of book The Alchemy of Stones by author Robert Simmons!
Dr. Pat Baccili
Dr. Pat Baccili helps individuals and organizations break through their limiting Crust so they can reach their unlimited potential. Her specialty is assisting people face t...
Find out more »
Robert Simmons
Robert Simmons has been working with crystals and stones for over 35 years. He is the cofounder of Heaven and Earth, a company offering gem and jewelry creations for self-he...
Find out more »