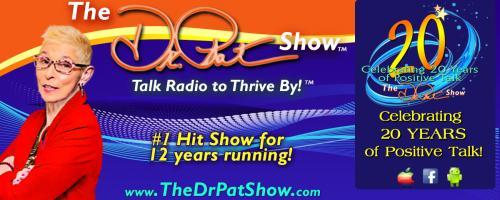 The Dr. Pat Show: Talk Radio to Thrive By!: Stay Remote? Go Hybrid? Leadership Challenges & Dilemmas in These Times with Special Guest Dr. Kathy Obear
08/24/2021 10:00 am PDT
As leaders make decisions about how to transition out of the 1st 18 months of the pandemic, with the Delta variant surging in many places, how can leaders and supervisors create inclusive, productive work environments that retain and meet the needs of the ever-changing workforce?
Inclusion Partner Program https://drkathyobear.com/inclusion-partner-program/ -a 12-week live virtual course with Dr. Kathy Obear, starting Friday, August 27th!
Watch live on Facebook. www.facebook.com/transformationtalkradio/
Episode giveaways:
Dr. Pat Baccili
Dr. Pat Baccili helps individuals and organizations break through their limiting Crust so they can reach their unlimited potential. Her specialty is assisting people face t...
Find out more »
Dr. Kathy Obear
For over three decades, Kathy Obear, Ed. D., has been skillfully bridging chasms of inequity and disparity in organizations and businesses. Currently president of the Center...
Find out more »