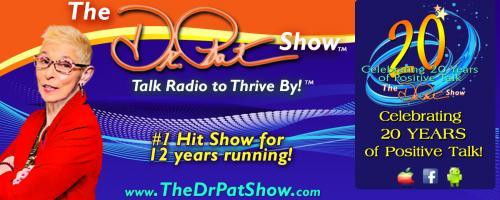 The Dr. Pat Show: Talk Radio to Thrive By!: Special Guest Host Julia Griffin-Listening to the Body, Finding Peace, and Eliminating Stress with Ann Brode
05/26/2020 11:00 am PDT
Julia's guest, Ann, has a special talent for unifying the energy of the body/mind/spirit. She'll be sharing techniques to quiet the body and mind in moments of stress.
Dr. Pat Baccili
Dr. Pat Baccili helps individuals and organizations break through their limiting Crust so they can reach their unlimited potential. Her specialty is assisting people face t...
Find out more »
Julia Griffin
The Power of Inspiration & Awakening Radio with Julia Griffin: Master a higher frequency for a "new" state of mind.Every 2nd & 4th Wednesday 9am pacific / 12pm east...
Find out more »
Ann Brode
Ann Todhunter Brode has been an Aston Patterning practitioner and body-oriented therapist in Santa Barbara for over forty years. A recognized master in her field, Brode writ...
Find out more »