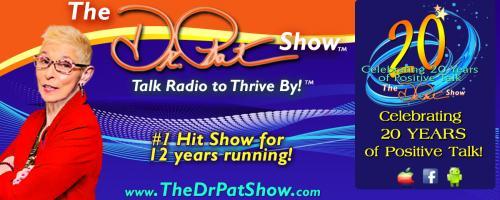 The Dr. Pat Show: Talk Radio to Thrive By!: Special Guest Host Ellen Stewart- A Young Adult Story of Recovery with Ryan Quigley
05/26/2020 10:00 am PDT
An inspiring story of a young man's journey from active alcoholism to recovery. A must listen for any parent concerned about their child or an young person thinking about getting clean and sober.
Watch live on Facebook. www.facebook.com/transformationtalkradio/
Ellen Stewart
*Pushy Broad From The Bronx® with Ellen Stewart: Women Who Push For MoreWednesdays 2PM PT / 5PM ET *RECOVERY RECHARGED with Ellen Stewart - Pushy Broad From ...
Find out more »
Dr. Pat Baccili
Dr. Pat Baccili helps individuals and organizations break through their limiting Crust so they can reach their unlimited potential. Her specialty is assisting people face t...
Find out more »
Ryan Quigley
Ryan Quigley is the founder and co-owner of Pearl Recovery Center, and Pearl Residence Sober Living in Ft Myers, Florida. Ryan's mission to work in recovery comes from...
Find out more »