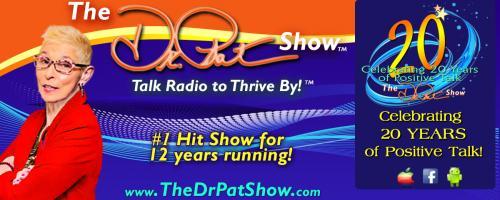 The Dr. Pat Show: Talk Radio to Thrive By!: Shifting Your Frequency Through the Power of Love Energy with guest host Susan Dolci and guest Pam Barosh
12/23/2020 11:00 am PDT
How do we release fear and accept love and what do we need to do every day so we can live in the higher planes of love? Join Guest Host Susan Dolci as she chats with medium, intuitive healer, energy coach, and writer Pam Barosh about how we are all shifting our consciousness to a different energy frequency. Download Pam's free e-book: The Seven Magical Steps to Activating Your Soul Abundance
Watch live on Facebook. www.facebook.com/transformationtalkradio/
Dr. Pat Baccili
Dr. Pat Baccili helps individuals and organizations break through their limiting Crust so they can reach their unlimited potential. Her specialty is assisting people face t...
Find out more »
Susan Dolci
The Awakened Parent Project with Susan Dolci: Conscious Conversations, Empowered Parenting 1st & 3rd Tuesday 12pm pt / 3pm et The Awakened Parent Project helps us to ...
Find out more »
Pam Barosh
Pam Barosh is a medium, intuitive healer, spiritual coach, energy expert, writer, and a messenger of love with training in chakra and crystal healing. She completed a master...
Find out more »