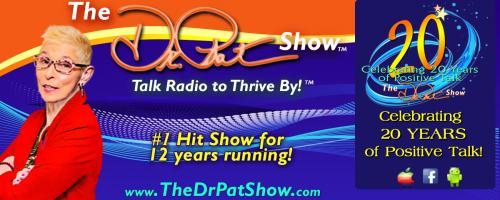 The Dr. Pat Show: Talk Radio to Thrive By!: Quieting the Monkey Mind with Dudley & Dean Evenson!
05/02/2019 10:00 am PDT
Join Dudley & Dean Evenson from Soundings of the Planet. This husband and wife team have been creating award-winning music for healing and meditation since 1979. Now they have written a book about how to meditate with music. In it they explain how to deepen and improve your meditation practice with sound tools & techniques—using chanting, mantras, toning, affirmations and more!
Watch live on Facebook. www.facebook.com/transformationtalkradio/
Episode giveaways:
2 Free QTMM Books with Peace Through Music 40th Anniversary Collection!
Dr. Pat Baccili
Dr. Pat Baccili helps individuals and organizations break through their limiting Crust so they can reach their unlimited potential. Her specialty is assisting people face t...
Find out more »
Dean and Dudley Evenson
In 1979, when Dudley and Dean Evenson first sold their tapes out of the back of their van at crafts fairs, they had no idea that 40 years later, their sound healing music wo...
Find out more »