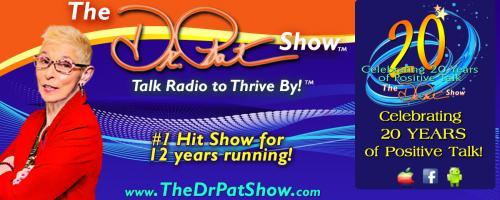 The Dr. Pat Show: Talk Radio to Thrive By!: Mindful Astrology: Finding Peace of Mind According to Your Sun, Moon, and Rising Sun with Monte Farber and Amy Zerner
06/02/2021 11:00 am PDT
Ever wonder what's behind the simple question of "What's your sign?" While most people are aware of their sun sign, beginning to understand the combination of your sun, moon, and rising signs—also known as your "celestial trilogy"—can give you a deeper perspective on your personality and those of your loved ones. Your sun sign represents your purpose in life, your moon sign rules your emotional intelligence, and your rising sign indicates how you appear to others. Explored together, your celestial trilogy gives you meaningful insights into:Love and relationships, Work and career, Wealth and success and Wellness and mindfulness.
Our purpose is to grow, love, and bring ourselves into balance. The mindful practice of astrology can help you achieve self-awareness, learning to truly see yourself and others. With the insights you'll gain from this book, you can create a more mindful life filled with self-knowledge, peace and meaning.
Watch live on Facebook. www.facebook.com/transformationtalkradio/
Episode giveaways:
3 copies of book: Mindful Astrology by authors Monte Farber and Amy Zerner!
Dr. Pat Baccili
Dr. Pat Baccili helps individuals and organizations break through their limiting Crust so they can reach their unlimited potential. Her specialty is assisting people face t...
Find out more »
Monte Farber & Amy Zerner
Since 1988, husband-and-wife team Amy Zerner and Monte Farber have created their family of bestselling "spiritual power tools," -metaphysical books and oracles t...
Find out more »