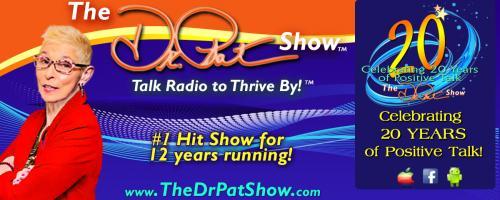 The Dr. Pat Show: Talk Radio to Thrive By!: Mind to Heart and a Family, Career, and Spiritual Path with Craig Richardson
01/04/2021 11:00 am PDT
Who is Craig Richardson and his journey. He will be discussing life's journeys, common blockages and strategies for overcoming them to help you along your path.
Watch live on Facebook. www.facebook.com/transformationtalkradio/
Dr. Pat Baccili
Dr. Pat Baccili helps individuals and organizations break through their limiting Crust so they can reach their unlimited potential. Her specialty is assisting people face t...
Find out more »
Craig Richardson
Craig Richardson is an intuitive life coach offering services in hypnotherapy, dreamwork and analysis, and relationship strategies. He has an innate ability to understand a ...
Find out more »