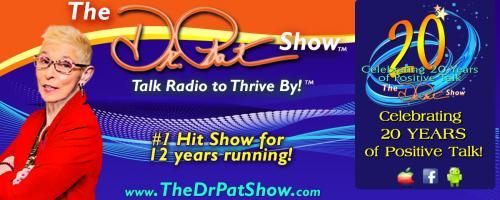 The Dr. Pat Show: Talk Radio to Thrive By!: Hush Money-Abram! Pathway to Prosperity-Lazar! Traveling Through The Cloud-Frank!
07/13/2021 10:00 am PDT
Jacquie Abram discusses her new book Hush Money: How One Woman Proved Systemic Racism in her Workplace and Kept Her Job. FindThisBest.com placed Hush Money in the top ten of their Best African American Christian Fiction Books!
Mark Lazar discuses his new book Pathway to Prosperity: Your Guide to Money and Economics. In his new book he shares a comprehensive financial literacy program that takes the mystery out of money. Be financially secure!
Briana Frank talks about the future of travel and the role technology, such as hybrid cloud, will play in future and what that means for consumers. In a recent survey from IBM, 30% of people are planning to fly more often now that they are vaccinated!
Dr. Pat Baccili
Dr. Pat Baccili helps individuals and organizations break through their limiting Crust so they can reach their unlimited potential. Her specialty is assisting people face t...
Find out more »
Jacquie Abram
Jacquie Abram, Deborah Harris, and Delilah Harris are a mother-daughter powerhouse trio, who are intensely passionate about revealing the grueling truth about systemic racis...
Find out more »
Mark Lazar
Mark Lazar was raised in a blue-collar family living below the poverty line, and experienced first-hand the struggles and pressures faced by many families in the United Stat...
Find out more »
Briana Frank
Briana Frank is Director of IBM Cloud focused on Developer Services. She believes in creating exceptional experiences that enable users to build and innovate using IBM Cloud...
Find out more »