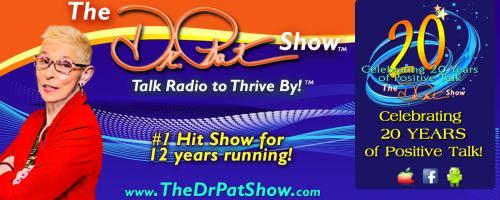 The Dr. Pat Show: Talk Radio to Thrive By!: Harnessing the Power of Intention with Guest Hosts Susan Dolci and Leone Dyer
04/29/2021 11:00 am PST
Now, more than ever before, it's time to come together to heal our bodies, our communities, and our world through the power of collective intention. Join Susan Dolci and Leone Dyer as they dive into the transformative work of Lynne McTaggart and her research on focused intention and "The Power of Eight." Watch us live on Facebook!
Dr. Pat Baccili
Dr. Pat Baccili helps individuals and organizations break through their limiting Crust so they can reach their unlimited potential. Her specialty is assisting people face t...
Find out more »
Susan Dolci
The Awakened Parent Project with Susan Dolci: Conscious Conversations, Empowered Parenting The Awakened Parent Project helps us to become more compassionate and engaged pa...
Find out more »
Leone Dyer M.A.
Leone Dyer is an Empowerment Coach, a spiritual mentor, creator of the Be Now Program™ and specializes in emotional eating. Through her own transformation to live in t...
Find out more »