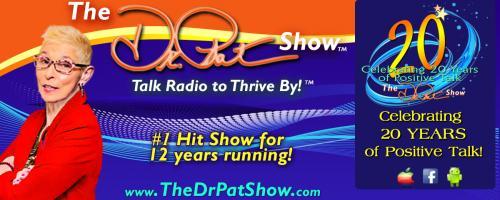 The Dr. Pat Show: Talk Radio to Thrive By!: Guest Host Susan Dolci with The Science of Friendship: Connecting to Thrive with guest Leone Dyer
03/09/2021 10:00 am PDT
Our human need for friendship is both universal and elemental. As the saying goes, friends are the family we choose. But there is so much more to these bonds than simple connection. What makes friendships not just pleasant, but essential? How does the quality of our friendships affect our souls, our bodies and our minds?
Watch live on Facebook. www.facebook.com/transformationtalkradio/
Susan Dolci
The Awakened Parent Project with Susan Dolci: Conscious Conversations, Empowered Parenting 1st & 3rd Tuesday 12pm pt / 3pm et The Awakened Parent Project helps us to ...
Find out more »
Dr. Pat Baccili
Dr. Pat Baccili helps individuals and organizations break through their limiting Crust so they can reach their unlimited potential. Her specialty is assisting people face t...
Find out more »
Leone Dyer M.A.
Leone Dyer is an Empowerment Coach, a spiritual mentor, creator of the Be Now Program™ and specializes in emotional eating. Through her own transformation to live in t...
Find out more »