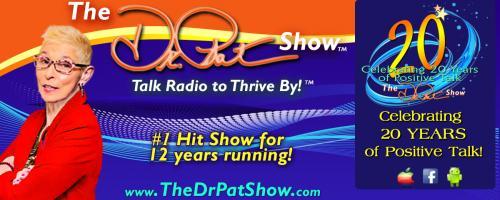 The Dr. Pat Show: Talk Radio to Thrive By!: GOODWILL®: Connecting Veterans To Their Next Missions with Steve Preston
11/05/2020 11:00 am PST
Goodwill Celebrates Our Heroes Year-Round by Connecting Veterans and their Families with Employment and Job Training Opportunities
As Americans take time to honor those who have served on Veterans Day, Goodwill continues its commitment to meet their specialized employment needs. The well-known charitable organization and the leading workforce provider in the world honors their service by providing veterans and military families with employment placement, tailored job training, career and transitional services and financial wellness opportunities to help them find jobs as civilians and build their careers once their military service ends.
According to the Bureau of Labor Statistics, this is vital in the veteran community as 326,000 of our nation's heroes remain unemployed. Additionally, the U.S. Department of Veterans Affairs estimates that each year, 200,000 service men and women return to civilian life. For many, the transition is a difficult one, whether due to physical and emotional disabilities, a skill set that is mismatched for the current labor market, or a lack of access to health care, childcare and housing.
Dr. Pat Baccili
Dr. Pat Baccili helps individuals and organizations break through their limiting Crust so they can reach their unlimited potential. Her specialty is assisting people face t...
Find out more »
Steve Preston
Steve Preston is the president and CEO of Goodwill Industries International (GII). Prior to joining GII, Preston held leadership positions in the public and private sectors ...
Find out more »