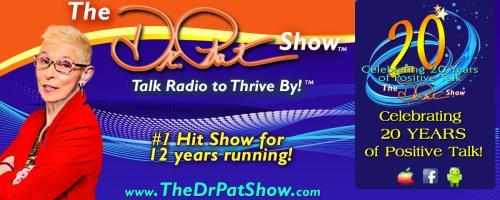 The Dr. Pat Show: Talk Radio to Thrive By!: Encore: Signs & Seasons: An Astrology Cookbook with Authors Monte Farber and Amy Zerner
09/04/2017 11:00 am PDT
Two best-selling experts in the field of astrology have created an answer on how to nourish both body and soul with SIGNS AND SEASONS: An Astrology Cookbook, a cookbook with chef-driven recipes that reveals how the zodiac is intimately connected to the changing of the seasons and our relationship to food, influencing our appetites and our aversions, as well as our styles in the kitchen and when entertaining.

The book takes readers through the four seasons and their corresponding astrological signs with over 95 tantalizing seasonal recipes, each replete with astrological lore, tradition, and ingredients that emphasize both sensual nourishment and psychic satisfaction. Four color inserts throughout showcase beautiful food photography by Monte Farber and artwork created specifically for the book by Amy Zerner in her iconic collage style. Drawing on the cuisine of the Mediterranean—home of the Greco-Roman culture from which classical Western astrology is derived—Signs and Seasons guides home chefs to deepen their understanding of:

- How to eat for their sign and nourish their soul
- How to feed friends and loved ones based on their signs and the season
- The Wheel of Life, Nature, and the Universe

Whether cooking for oneself, or entertaining a variety of friends across the zodiac, SIGNS AND SEASONS teaches readers how to align every meal perfectly with the stars.
Dr. Pat Baccili
Dr. Pat Baccili helps individuals and organizations break through their limiting Crust so they can reach their unlimited potential. Her specialty is assisting people face t...
Find out more »
Monte Farber & Amy Zerner
Since 1988, husband-and-wife team Amy Zerner and Monte Farber have created their family of bestselling "spiritual power tools," -metaphysical books and oracles t...
Find out more »