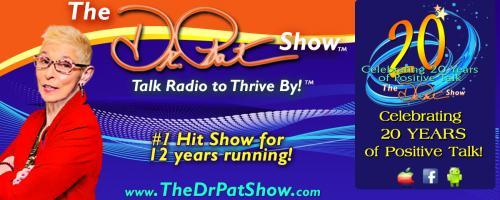 The Dr. Pat Show: Talk Radio to Thrive By!: Cheer's To Our Every Day Hero's with guest hosts Psychic Medium Jaime and Spiritwalker Nicole
12/31/2020 11:00 am PDT
Join Psychic Medium Jaime and Spiritwalker Nicole as they pay tribute to the everyday heroes of 2020. Today is a day to lift our spirits, raise our vibration and enter in a new year on a new vibrational level. This show is dedicated to our everyday heroes who have faced the front lines, taught our children, rang us up at the grocery store, cared for our loved ones, protected us in times of need, stood up for those who couldn't stand up for themselves, faced budget cuts and so much more. Tune in as we hear some of their stories and how they moved into a space of love, light and empowerment.
Watch live on Facebook. www.facebook.com/transformationtalkradio/
Call into the show 800-930-2819
Dr. Pat Baccili
Dr. Pat Baccili helps individuals and organizations break through their limiting Crust so they can reach their unlimited potential. Her specialty is assisting people face t...
Find out more »
Psychic Medium Jaime
Shades of Spirit: Making Sacred Connections Bringing A Shade Of Spirit To You with Psychic Medium Jaime and Spiritwalker Nicole Join us for our variety show where we talk a...
Find out more »