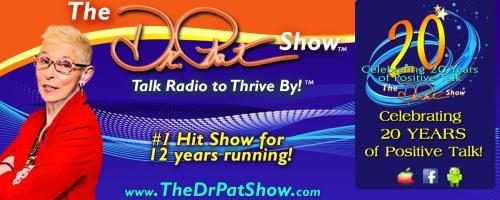 The Dr. Pat Show: Talk Radio to Thrive By!: Adler-Selective Search Founder. Kubli & Kardon-Department of Veterans Affairs-Gillespie-Children's Hospital-PA
02/12/2019 10:00 am PDT
Barbie Adler-Selective Search Founder. The opportunity cost of dating relationship expert explains why outsourcing your love life can result in significant gains in 2019!
Americans are busier than ever, making it challenging for the 52% of us who are still single to commit time to finding a committed relationship. The financial investment on each date can add up quickly, many times only to find out it isn't going to work. Thus, many are turning to Selective Search to do the leg work before the first date even occurs.
Dr. Lina Kubli and Dr. Randy Kardon-Department of Veterans Affairs-
Recognizing signs of vision loss in our nation's veterans. Symptoms may be present during initial vision loss, but many disorders begin subtly, without realizing the extent of vision loss. Knowing the common causes and what to look for may help detect symptoms early on and develop an effective course of treatment.
Matthew Gillespie, MD, attending cardiologist in the Cardiac Center at Children's Hospital of Philadelphia (CHOP)
Innovations in cardiac care can save and improve the lives of thousands of children worldwide. 1 in every 120 Babies in the U.S. is born with Heart Disease. It is a highly specialized procedure that requires the expertise of a skilled and experienced team.
Dr. Pat Baccili
Dr. Pat Baccili helps individuals and organizations break through their limiting Crust so they can reach their unlimited potential. Her specialty is assisting people face t...
Find out more »