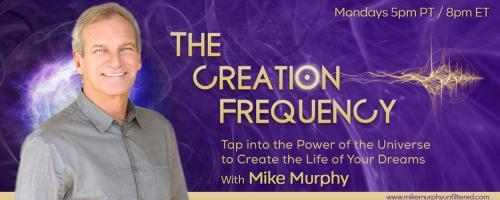 The Creation Frequency with Mike Murphy: Tap into the Power of the Universe to Create the Life of Your Dreams: Monday November 23, 2020 with Special Guests Shirley, Kiki and Wayne
11/23/2020 05:00 pm PDT
After covering the latest current events and news in the world today, Mike will have 3 special guests on to talk about The Creation Frequency. How are these guests using The Creation Frequency and Law of Attraction in their lives today? Mike will show them how to fine tune their intentions and maximize their results.
Mike Murphy
The Creation Frequency with Mike Murphy: Tap into the Power of the Universe to Create the Life of Your DreamsMondays 5pm PT / 8pm ET Take your power back and learn to live ...
Find out more »
Shirley Bishop
Shirley Bishop author of Light Revelation, Bringing Heaven to Earth, A Journey Through Breast Cancer. Shirley will be on today talking about the law of attraction and how sh...
Find out more »
Kiki Monifa
She will be on with Mike talking about The Creation Frequency and how it has impacted her life and how she uses the law of attraction in her life today.
Find out more »
Wayne Vass
Owner of Wayne Vass SEO, Wayne will be talking about refining his intentions and how he is using The Creation Frequency to manifest his best life!
Find out more »