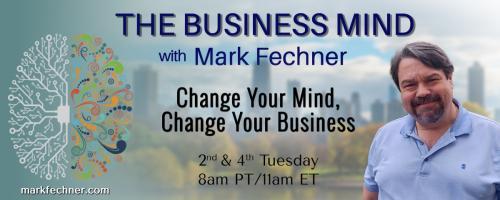 The Business Mind with Mark Fechner: Change Your Mind, Change Your Business: The Balance Between Empowerment and Micro-Management
09/13/2022 08:00 am PDT
Directing and empowering your employees is one of the biggest challenges for any leader. From an entrepreneur to a company CEO, leading your team is a difficult and sometimes frustrating process and can have mixed results in implementing a strategy. In this episode of The Business Mind, we will be talking to multi-business owner Rachel Cherny on her challenge navigating the line between empowerment and micro-management and come up with a workable solution for her businesses.
Mark Fechner
The Business Mind with Mark Fechner: Change Your Mind, Change Your Business 2nd & 4th Tuesdays 8am PT / 11am ET Welcome to The Business Mind Show; Change Your Mi...
Find out more »
Rachel Cherny
Rachel has been involved with the Printing Industry for over 15 years in many different capacities and she loves to help people grow their businesses. Through her work in pr...
Find out more »