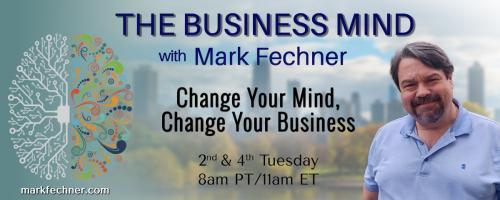 The Business Mind with Mark Fechner: Change Your Mind, Change Your Business: Crafting Your Business Message
11/08/2022 08:00 am PST
Every business, regardless of size, is tasked with the challenege of effectively communicating what they do and, more importantly, who is their best client. For some professions it may be very obvious. For other businesses to may take a more thought. Regardless, every business can benefit from crafting a clear and specific message that communicates what they do and who is their best client.
My guest, Chris Meister, will explore how he can create a clearer message for his coaching business.
Episode giveaways:
Chris is offering a free 30 minute Discovery Session on what your next phase of employment looks like, where you would like to go and come up with a strategy on how to achieve it. Contact Chris at his website https://reimaginedpotential.com, via email reimaginedpotential@gmail.com, on Instagram @reimaginedpotential or on Twitter @reimaginedyou.
Mark Fechner
The Business Mind with Mark Fechner: Change Your Mind, Change Your Business 2nd & 4th Tuesdays 8am PT / 11am ET Welcome to The Business Mind Show; Change Your Mi...
Find out more »
Chris Meister
Reimagined Potential is a career exploration business that helps individuals to better discern the people they are meant to be. By offering opportunities for self-understand...
Find out more »