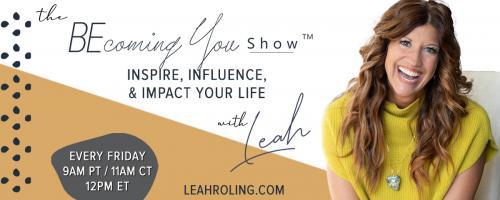 The Becoming You Show with Leah Roling: Inspire, Influence, & Impact Your Life: 87. Untangling of Personal Bonds
09/15/2023 09:00 am PDT
In today's episode, we delve deep into the intricate world of offenses and expectations, two powerful emotions that can define our interpersonal experiences. Ever felt slighted, even by a casual comment? Ever grappled with the weight of living up to someone else's vision of your life? Join us as we unpack the nature of taking offense and how, often, it's intrinsically tied to the expectations we perceive from those around us and the expectations we have for others. By the end of this episode, we hope to equip you with a fresh perspective on navigating the complex maze of personal offenses and societal expectations. Because at the heart of it all, understanding these dynamics can be the key to stronger, more genuine relationships and, ultimately, to finding peace within oneself.
My hope is that we are creating a community by way of this podcast. My goal is to teach this work to ONE MILLION people. Maybe you could help me. Who do you want to do this life with? Maybe you click the 3 dots, copy the link and send this to them. The ripple effect that this work has is transformational and it all starts with you. Thank you for being here.
Episode giveaways:
Leah Roling
The Becoming You Show with Leah Roling: Inspire, Influence, & Impact Your Life Every Friday 9am PT / 12pm ET Welcome to The Becoming You Show with me, your host ...
Find out more »