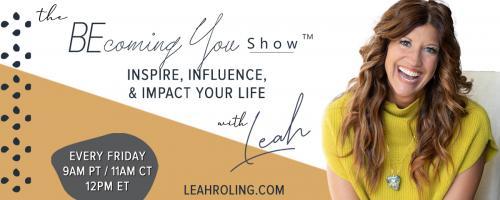 The Becoming You Show with Leah Roling: Inspire, Influence, & Impact Your Life: 86. The Ripple Effect
09/08/2023 09:00 am PDT
Join us for this episode as we dive deep into the profound and often underestimated ripple effect of neglecting areas like mind management, personal development, emotional regulation, and disciplined action. While many view these aspects as optional or supplementary, their influence spans our mental and physical well-being, relationships, professional success, and so much more. We are going to unravel the cascading impact of such neglect and, more importantly, chart a path to mitigate these effects. Whether you're feeling the weight of missed personal growth opportunities or just need a nudge to stay on track, this episode is a call to embrace self-improvement and witness the transformative power it can usher into all facets of life. Join us and challenge yourself to set positive ripples in motion!
My hope is that we are creating a community by way of this podcast. My goal is to teach this work to ONE MILLION people. Maybe you could help me. Who do you want to do this life with? Maybe you click the 3 dots, copy the link and send this to them. The ripple effect that this work has is transformational and it all starts with you. Thank you for being here.
Watch: https://youtu.be/knurU5jumcU
Episode giveaways:
Leah Roling
The Becoming You Show with Leah Roling: Inspire, Influence, & Impact Your Life Every Friday 9am PT / 12pm ET Welcome to The Becoming You Show with me, your host ...
Find out more »