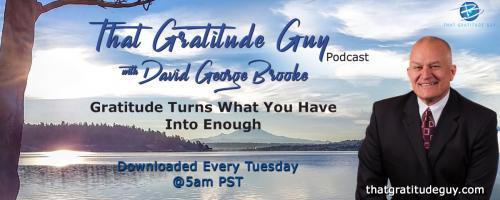 That Gratitude Guy Podcast with David George Brooke: Gratitude Turns What You Have Into Enough: Sports Broadcaster - Special Guest: Jen Mueller
09/07/2021 05:00 am PDT
20-year sports broadcasting veteran, Jen currently serves as the Seattle Seahawks sideline radio reporter. She is also an Emmy-award winning producer and part of the Seattle Mariners television broadcast team on ROOT Sports
In addition to her work on the sidelines, Jen launched Talk Sporty to Me in 2009. She provides a unique twist on business communication based on her time in locker rooms and expertise in 1-on-1 conversations. Jen is the author of three books and graduated from Southern Methodist University in 2000 with degrees in Broadcasting Journalism and Public Policy.
David George Brooke
David interviews guests that have used the power of gratitude to propel them forward through the often rough waters of life. The different guest perspectives give you ...
Find out more »
Jen Mueller
20-year sports broadcasting veteran, Jen currently serves as the Seattle Seahawks sideline radio reporter. She is also an Emmy-award winning producer and part of the S...
Find out more »