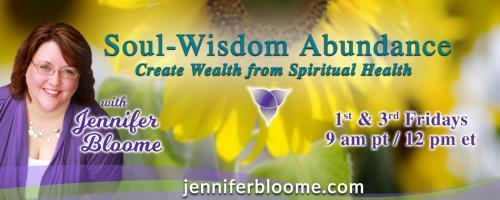 Soul-Wisdom Abundance: Create Wealth from Spiritual Health with Jennifer Bloome: Does Authenticity Matter to your Bank Account?
04/16/2021 09:00 am PDT
Anyone who has run their own business knows that it takes a PhD in self-development. But does being your authentic Self matter to how your business runs? How the money flows? Join my guest, Beth Koritz, and I as we discuss the importance of being authentic in your life and business and how it impacts your financial bottom line.
Episode giveaways:
Jennifer Bloome
Soul-Wisdom Abundance with Jennifer Bloome: Create Wealth from Spiritual Health Every 1st & 3rd Friday at 9am pacific / 12pm eastern It's time to shake o...
Find out more »
Beth Koritz
Beth Koritz is a best-selling author, licensed professional counselor and Authenticity Coach. Her passion is helping women who feel disconnected from themselves integrate th...
Find out more »