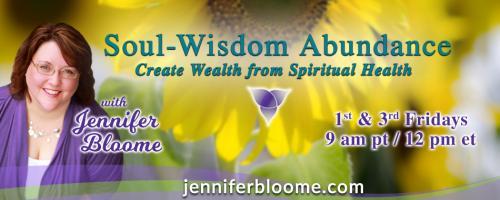 Soul-Wisdom Abundance: Create Wealth from Spiritual Health with Jennifer Bloome: Building Strong Relationships
11/19/2021 09:00 am PST
The premise of this podcast is that we are in relationship with money, a Soul Money Relationship. What makes a good relationship? What's your responsbility and what's your partner's responsibility? How does this work when the partner is Divinity? And the energy of money? Join me and my guests, Jennifer and Stephanie PageWise as we discuss this and more!
Episode giveaways:
Jennifer Bloome
Soul-Wisdom Abundance with Jennifer Bloome: Create Wealth from Spiritual Health Every 1st & 3rd Friday at 9am pacific / 12pm eastern It's time to shake o...
Find out more »
Jennifer and Stephanie PageWise
Jennifer and Stephanie PageWise are Quantum Relationship Coaches who work with the LGBTQ+ community. Their mission is to bring more love to the world, one relationship...
Find out more »