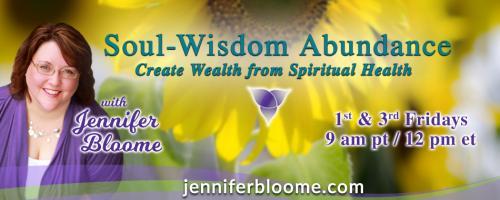 Soul-Wisdom Abundance: Create Wealth from Spiritual Health with Jennifer Bloome: Body and Soul: two paths to bringing consciousness to money
10/16/2020 09:00 am PDT
Becoming more conscious in your money relationship can sound as appealing as a root canal. However, it is THE foundation for creating financial freedom and independence. Join me and my guest, Bari Tessler, as we discuss a variety of ways to bring consciousness to money with joy and ease.
Jennifer Bloome
Soul-Wisdom Abundance with Jennifer Bloome: Create Wealth from Spiritual Health Every 1st & 3rd Friday at 9am pacific / 12pm eastern It's time to shake o...
Find out more »
Bari Tessler
Bari Tessler Linden, M.A., is a Financial Therapist, Mentor Coach, Mama-preneur, and the Founder of The Art of Money. She has guided thousands of people to new, empowered, a...
Find out more »