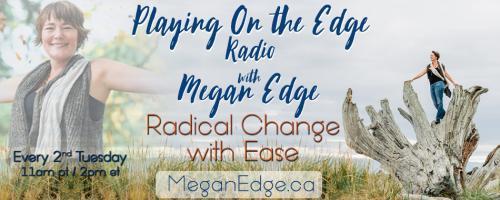 Playing on the Edge Radio: with Megan Edge: Radical Change with Ease: The Living Edge: Radically Changing Your Story
12/12/2017 11:00 am PST
Megan and Dr. Pat look at how you can radically change your life by the process of changing your story. Using Megan's own journey of healing through examining the story she was telling herself about her life, they illustrate how it's possible to do this by recognizing what your Wake-Up calls are. They also look at the language you use to tell your story, identifying limiting beliefs and transforming them into limitless beliefs and finding your voice.
Episode giveaways:
3 signed copies of Megan's book "The Heart's Journey" will be given away during the show.
Megan Edge
Playing on the Edge Radio with Megan Edge: Radical Change with Ease Playing on the Edge with Megan Edge will challenge conventional beliefs about what's possible in c...
Find out more »
Dr. Pat Baccili
Dr. Pat Baccili helps individuals and organizations break through their limiting Crust so they can reach their unlimited potential. Her specialty is assisting people face t...
Find out more »