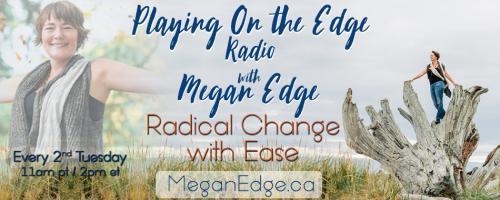 Playing on the Edge Radio: with Megan Edge: Radical Change with Ease: On the Edge of the Big Why: A Case for Curiosity
07/13/2021 11:00 am PDT
One of the most important questions in critical thinking or getting curious about something – an event, an idea, a belief – is the question, "Why?" This single word, posed as a question, opens up our neural pathways to a uniquely human capacity; that of curiosity. Curiosity leads to the evolution of new ideas and inventions that have changed the path of human history, dramatically impacting our present experience and future accomplishments. Yet, we are not always encouraged to ask the question, "Why?". Why not? Because, "Why?" can be seen as a challenge to authority, as is any critical thinking. When paired with the other critical thinking questions; "Where?", "When", "How?" and "What?", becoming curious can lead to revolution! Master Healer, Megan Edge and her fabulous co-host, Dr. Pat are asking the big "Why?" and sharing how this simple question can change everything, personally and globally.
Watch live on Facebook. www.facebook.com/transformationtalkradio/
Megan Edge
Playing on the Edge Radio with Megan Edge: Radical Change with Ease Playing on the Edge with Megan Edge will challenge conventional beliefs about what's possible in c...
Find out more »
Dr. Pat Baccili
Dr. Pat Baccili helps individuals and organizations break through their limiting Crust so they can reach their unlimited potential. Her specialty is assisting people face t...
Find out more »