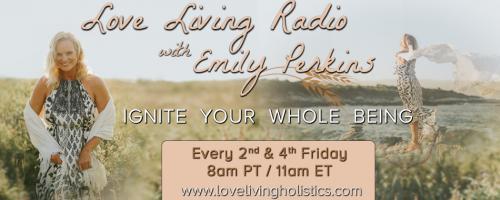 Love Living Radio with Emily Perkins - Ignite Your Whole Being!: 2018 What a Year!
01/09/2019 04:00 pm PDT
2018 held so much for many of us. It was a year of political struggle, global challenges, personal hardship AND so much growth. Personally, it was a year of courage and bravery. 2018 constantly challenged me to step outside of my comfort zone and into something bigger and bolder. This episode is an honoring and release of the past year, acknowledging what I learned, and voicing of the vision for 2019.
This is also a great opportunity to get supported on your own 2018. What was difficult for you in 2018? What or who needs to be forgiven? What were some of your success and what do you want for 2019? If there were no limitations, what would happen for you in 2019? Who would you be?

CALL IN!!!!
So much magical manifestation available in the start of a new year. How can I support you?!
Emily Perkins
Love Living Radio - Ignite Your Whole Being with Emily PerkinsTune-in as Emily sheds a radiant light of love on the beauty and the power that resides within you! What w...
Find out more »