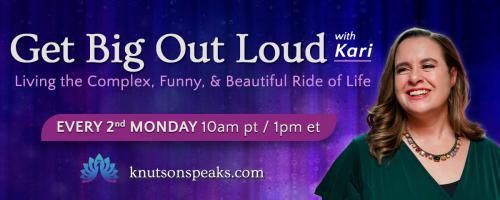 Get Big Out Loud with Kari: Living the Complex, Funny, & Beautiful Ride of Life: The Struggle Is Real
04/12/2021 10:00 am PDT
We have now endured a year of the pandemic and many of us are struggling. We want things to return to 'normal' and we can see that we are closer to the end but we know that we are not there yet. We are somewhere in the in-between space, not the new normal, just the next moment. We are through with it but it is not through with us and we are looking for ways to cultivate both patience and hope. In this episode of 'Get Big Out Loud' we will talk about the struggle and explore ideas for how we can persevere with grace and compassion. We'll also talk about why it is important to recognize our shared humanity while still acknowledging our disparate experiences.
Watch live on Facebook. www.facebook.com/transformationtalkradio/
Kari Knutson M.A.
Get Big Out Loud with KariLiving the Complex, Funny, & Beautiful Ride of LifeEvery 2nd Monday at 10am PDT / 1pm EDT Welcome to Get Big Out Loud Radio: Where we ...
Find out more »
Dr. Pat Baccili
Dr. Pat Baccili helps individuals and organizations break through their limiting Crust so they can reach their unlimited potential. Her specialty is assisting people face t...
Find out more »