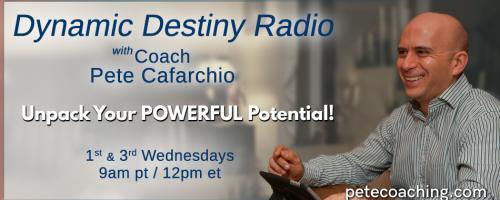 Dynamic Destiny Radio with Coach Pete Cafarchio: Unpack Your Powerful Potential: Staying on track with your 2020 goals.
03/18/2020 09:00 am PDT
So how are you doing with your goals for 2020? In this episode we revisit some of the goal-setting principles from Episode 8 to see how you're coming along.
Some goals need to be revisted. Some need to be tweaked. And some need to be deleted!
I'll have lots of practical ideas and stories to help you maintain forward momentum!
Pete Cafarchio
Dynamic Destiny with Coach Pete 1st and 3rd Wednesdays 9am pt / 12pm et Coach Pete wants to help you unpack your powerful potential. What's your purpose in life?...
Find out more »