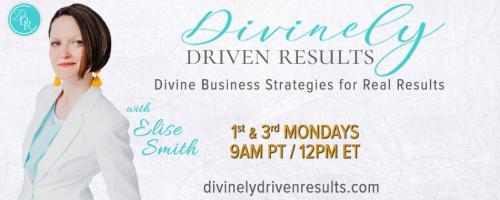 Divinely Driven Results with Elise Smith: Divine Business Strategies for Real Results: The Drive Thru Method of Manifesting
09/21/2020 09:00 am PDT
Did you know that manifesting what you want in life can be as easy as going through the drive thru at your favorite restaurant? You just have to know the steps to co-create with God anything you want!
So come join Kelly Walker, the Queen of Manifesting, and I where we will give you the tools to turn wishing into winning.
Elise Smith
Divinely Driven Results with Elise Smith: Divine Business Strategies for Real Results1st and 3rd Mondays 9AM PT / 12PM ET Are you setting goals, but falling short? Does you...
Find out more »
Kelly Walker
Kelly Walker is an international motivational speaker, author, podcaster and manifesting mentor. She has been featured on over 300 media outlets from ABC, FOX, NBC to I Hear...
Find out more »