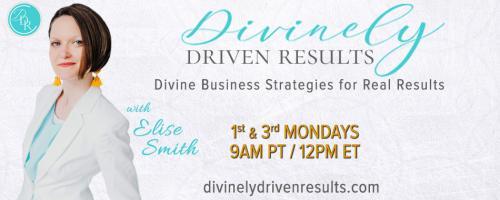 Divinely Driven Results with Elise Smith: Divine Business Strategies for Real Results: Conquering Mental Illness in Business Through the Prince of Peace
09/07/2020 09:00 am PDT
We don't like to talk about it ladies, but all of us suffer from mental illness in one form or another and it's ok.
But there may be things we are doing that are actually making it worse and the good thing is that we don't have to face this monster alone.

Come join Cici Woods, the owner and founder of Ovary Reacting, and I, while we discuss ways to turn your burdens over to the Lord and succeed in business in spite of our emotional or mental health concerns.

Learn steps you can take to gain more peace and comfort in your life to pursue the purposes God has given you.
Elise Smith
Divinely Driven Results with Elise Smith: Divine Business Strategies for Real Results1st and 3rd Mondays 9AM PT / 12PM ET Are you setting goals, but falling short? Does you...
Find out more »
Cici Woods
Cici Woods is the 21-year old owner and founder of Ovary Reacting, a subscription box using snacks as a catalyst to promote positive mental health and menstrual normativity....
Find out more »