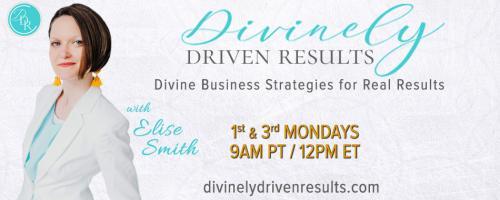 Divinely Driven Results with Elise Smith: Divine Business Strategies for Real Results: 3 Tips on Getting Clients from Anywhere
03/02/2020 09:00 am PDT
ABC. Always Be Closing. The ever-popular sales phrase.
What if it was, "Always be building relationships."?
We'll be exploring how you can build relationships with your ideal clients no matter where you are. Imagine connecting with a new client while you're out running errands or traveling for work.
Expert dating and relationship coach, Diana Groesbeck, will share her three best tips to get clients anywhere. Diana is the founder of Love Life Makeover and Ladies in Action Utah.
Elise Smith
Divinely Driven Results with Elise Smith: Divine Business Strategies for Real Results1st and 3rd Mondays 9AM PT / 12PM ET Are you setting goals, but falling short? Does you...
Find out more »