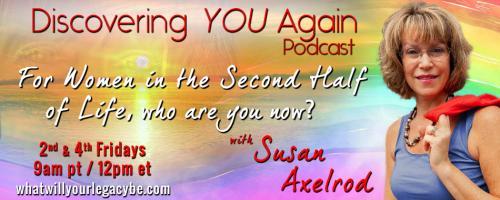 Discovering YOU Again Podcast with Susan Axelrod - For Women in the Second Half of Life, who are you now?: Find Your Funnybone with Jenn Lederer!
06/26/2019 11:00 am PDT
Why take everything so seriously? What if you could laugh more easily and find humor in your hubris? And, how do you build humor into your life and work in a way that can motivate others? Learn all this and more from Discovering You Again Radio guest, Jenn Lederer of Jenn Lederer Productions. .
Watch live on Facebook. www.facebook.com/transformationtalkradio/
Episode giveaways:
Susan Axelrod
Webcam Confidence for Women: Helping Women in Business R.I.S.E.with Susan Axelrod and Pam Sullivan1st & 3rd Fridays - 12pm PT / 3pm ET Fun, Fiery and Fierce, Host Confi...
Find out more »
Dr. Pat Baccili
Dr. Pat Baccili helps individuals and organizations break through their limiting Crust so they can reach their unlimited potential. Her specialty is assisting people face t...
Find out more »
Jenn Lederer
A Motivational Comedian + Leadership Strategist For Creative Entrepreneurs, Jenn Infuses Comedy, Heart, Intuition And No B.S. Business Strategies That Help Her Audiences Lau...
Find out more »