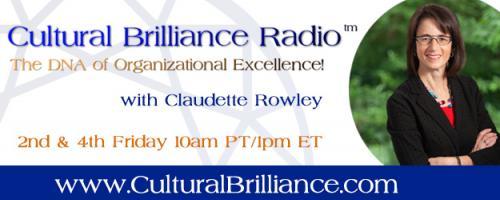 Cultural Brilliance Radio: The DNA of Organizational Excellence with Claudette Rowley: What Does Love Have to Do With It? How Heart-Centered Leadership Fuels Business with Samantha Thomas
08/25/2017 10:00 am PDT
Join us for a thought provoking conversation with Samantha Thomas, Executive Director of Dream Change and founder of the Love Summit business conference. We'll discuss how heart-centered leadership has the potential to drive social, environmental, and economic stability throughout the globe. Samantha will share examples of companies that combine love and business with successful, sustainable outcomes.
Claudette Rowley
The Brilliance Ultimatum™ with Claudette Rowley: Time's UP! on Transformation Talk Radio, Conscious Business Radio, & The Dr. Pat Show Network We have...
Find out more »
Samantha Thomas
Samantha Thomas Executive Director, Dream Change Founder, The Love Summit Business Conference&n...
Find out more »