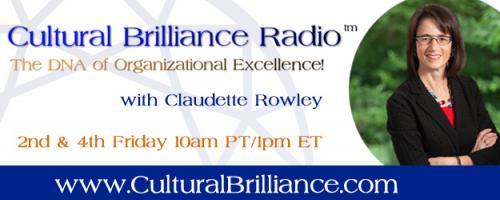 Cultural Brilliance Radio: The DNA of Organizational Excellence with Claudette Rowley: Cultural Intelligence: The Tapestry of Success
06/24/2016 10:00 am PDT
All organizational culture has an innate intelligence. During this episode, Claudette and Dr. Pat will explore how to understand your culture by listening to it and recognizing its connection to achieving strategic goals. We'll also discuss the framework of a brilliant culture and how that transformation is possible for most organizations.
Claudette Rowley
Every 2nd & 4th Friday 10 am pt / 1pm et The Brilliance Ultimatum™ with Claudette Rowley: Time's UP! on Transformation Talk Radio, Conscious Business ...
Find out more »
Dr. Pat Baccili
Dr. Pat Baccili helps individuals and organizations break through their limiting Crust so they can reach their unlimited potential. Her specialty is assisting people face t...
Find out more »