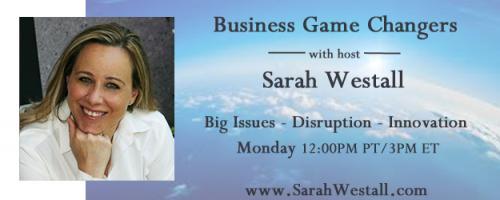 Business Game Changers Radio with Sarah Westall: INDICTMENTS STALLED: Human Compromise Stopping Arrest of Large Pedophile Rings w/ Jimmy Boots
04/01/2019 12:00 pm PDT
Detective Rothstein (a.k.a. Jimmy Boots) rejoins the program to discuss major topics that were not covered in detail during previous shows. He shares how he knows who the two shooters were on the grassy knoll and why major arrests have not occurred even though authorities know the depth and details of crimes committed, including who are the criminals.
See the Legislation that will help end human trafficking @ http://Cutt.ly/HumanTraffickingResolution
Consider supporting the show and receive free ebooks, exclusive interviews and articles. Sign up to be a Patreon @ http://Patreon.com/SarahWestall
Follow me on my twitter account @Westall_SarahW
Be sure to watch the other episodes with Detective "Jimmy Boots" Rothstein
Sarah Westall
BUSINESS GAME CHANGERS 12PM PT / 3PM ET Business Game Changers with Host Sarah Westall covers the big issues, disruptions, and cutting edge innovation. Each episode bri...
Find out more »