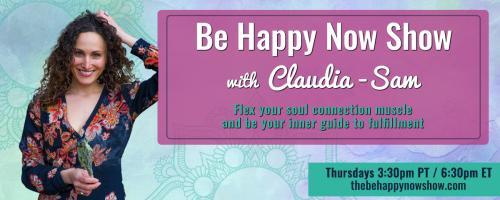 Be Happy Now Show with Claudia-Sam: Flex Your Soul Connection Muscle and be Your Inner Guide to Fulfillment: Flow out of Fight or Flight Mode
09/15/2022 03:30 pm PDT
In this Be Happy Now show episode, Claudia-Sam offers a pop-up workshop once again to help you go with the flow and stop resisting the Life that happens all around you.
If you wish to join her Live Q&A and cozy group coaching opportunity monthly and at no cost, go to thebehappynowshow.com and join the Be Happy Now show crew.
In this episode:
Find out where you are on the fight, flight, freeze or feel scale.

Learn to be present in your own two feet so that you stop giving in to anxiety or worry.

Gain tools to turn your brain OFF so that you can have clarity about what to do to make the impact you want in the world.
Make sure to friend of Claudia-Sam on Facebook, follow her @coachclaudiasam on IG, and join her free Facebook group You Have It In You to get in on more soul connection coaching.
Claudia-Sam Cataford Sauvé
Be Happy Now Show with Claudia-Sam: Flex your Soul Connection Muscle and Be Your Inner Guide to Fulfillment Are you ready to ditch the self-care guilt and quit the go-go-go-...
Find out more »